A Ghanaian man has astonished many by announcing his intentions to hold a funeral for his beloved late dog, Mr Dodoo.
According to the information gathered, Mr Dodoo and his owner had an incredibly close bond, making the loss of the dog a profound and heart-wrenching experience for the owner.
Due to the deep connection they shared during the dog's life, the owner has chosen to arrange a dignified burial for Mr Dodoo, treating the event with the same respect and ceremony that one would expect for a human being.
A funeral banner circulating on social media indicates that the ceremony for the departed dog will take place on August 21, 2023, followed by its burial at the Awudome Cemetery.
See the funeral banner below: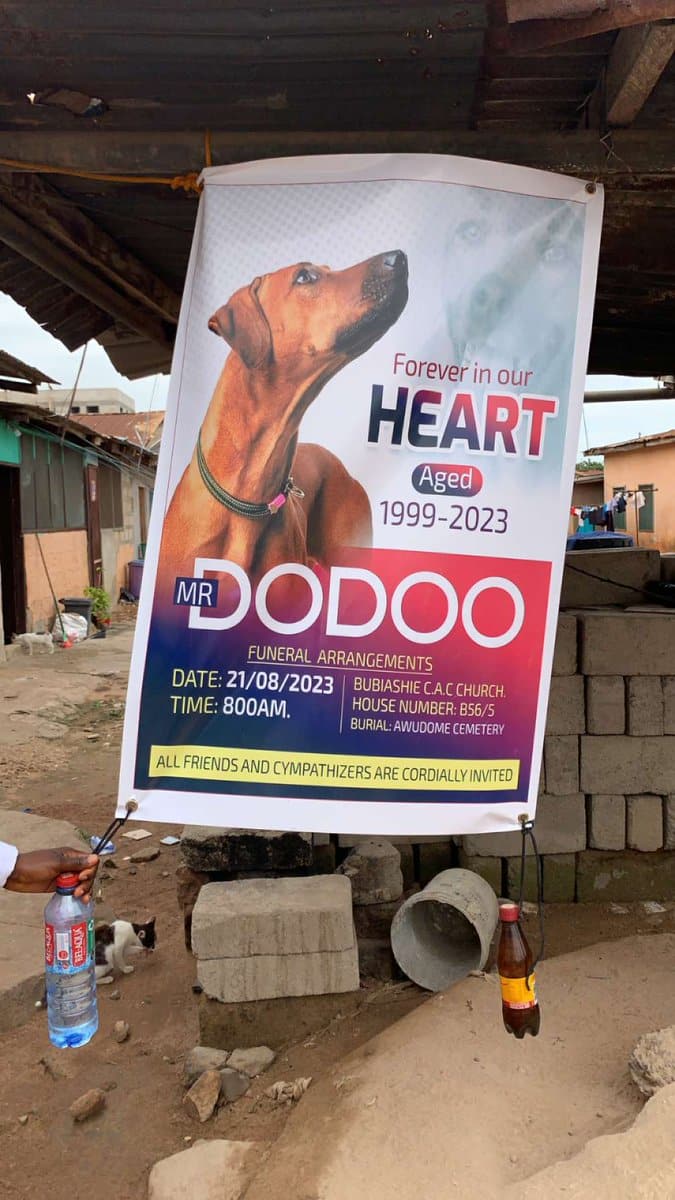 Check out some comments below:
@Memphis_SZN: "Similar to my grandfather's dog…. The dog's name was Whisky… He was 11yrs before he died. My grandfather called all Uncle's and Auntie's (all 12 of of his children) and organized a mini funeral/party for Whisky…."
@Delbona: "I have a dog I see as a family member now ,been with us for more than 13years . I will be tempted to do same ?"
@almost6ftvc: "It was one of them stray dogs with homes. So everybody in the hood knew him. A real one. He will be missed. Rip Dodoo"
@Blue_Cheese0: "For dog to reach 15 years be miracle. How this one reach 24??"
@KwadwoBruno: "24 is worth celebrating honestly ?"