On Tuesday, August 1, Nigerian man King Chidi expressed his opinion on Twitter, stating that it is foolish for a man to spend millions of naira to marry a woman who has been intimate with multiple men for free.
He argued that paying the bride price and splurging on a wedding for such a woman is akin to compensating all the men who had previously been intimate with her.
Chidi tweeted, "Foolishness is spending millions on bride price, marriage lists, wedding ceremony for a woman who several men knacked for free. It's like paying all the men who once slept with her for all the years of services they rendered to your promiscuous wife's overused kpekus."
In a follow-up tweet, he added, "BITTER FACTS: That non-virgin woman you're paying millions for her bride price will invite most of the men who slept with her for free in the car, toilet, bushes, clubs, etc., during your wedding ceremony. And those same men will shake your hand and tell you that you're lucky to have her."
Chidi's tweets sparked discussions and reactions on social media, reflecting differing views on the topic of relationships, virginity, and marriage traditions.
See his tweet below from the screenshots below…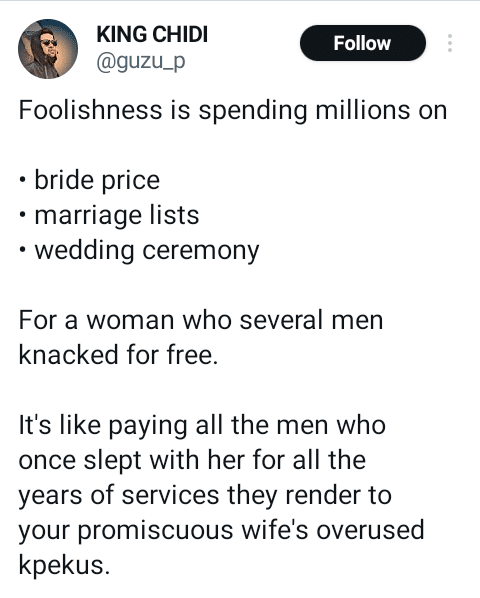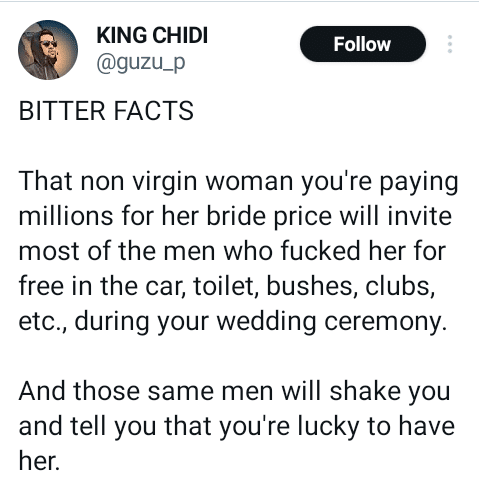 Below are some of the reactions from tweeps who have come across the trending-controversial tweet…
chi_agozie7 – This one pain me, make I no lie
@eyes_likehoney – The funny thing is once the men are done with the eating they'll still marry non virgins and pay full bride price . I'm never leaving this app abeg
@princefortune19 – Just say you no get money for wedding.
@CoocHeona – I said it before that it is out of bitterness cause it's not normal tweet o
@muhammadepoju – Maybe spending so much money on a wedding isn't really a great idea being that it's not an investment, but the reason he gave doesn't cut it. If you get married to someone with the mindset of her being a left over, you'll find it hard to treat her with respect which is expected to be mutual to keep a marriage.