Megan Fox has covered up an intimate tattoo that sported the name of her ex-husband, Brian Austin Green, replacing it with an earthy new design.
Megan Fox just pulled off the ultimate tattoo transformation.
The Jennifer's Body alum has officially covered up a tattoo that was dedicated to her ex-husband Brian Austin Green with some earthy ink. Now, in place of the name "Brian," Megan has an even larger design of a snake and flowers sitting low on her right hip. Her tattoo artist Jesse, who owns SYZYGY Precision Tattooing, gave a glimpse of the new ink on social media. 
"Coverup tattoo for @meganfox," he captioned his July 11 Instagram post. "Was able to completely hide the old tattoo underneath the new snake and flowers she wanted… very grateful for all of the opportunity tattooing has given me and all of the cool people I've met along the way."
And that isn't the only new ink the 37-year-old is now sporting. Megan also recently added finger tattoos to both hands, which include different geometric designs, patterned dots and an eye. 
Tattoo artist Sydney Smith, who owns Blxck Rose Ink, shared before and after videos of Megan's hands, writing on July 11, "Finger tats on @meganfox."
Brian and Megan, who share sons Noah, 10, Bodhi, 9, and Journey, 6, divorced in 2020 after nearly 10 years of marriage. Since their split, the two have each found love again, with Megan currently engaged to Machine Gun Kelly while the Beverly Hills, 90210 alum is dating Sharna Burgess, with whom he shares 1-year-old Zane. And the former couple have proven they're friendly exes, even taking their blended family to Universal Studios together.
Brian has previously opened up about co-parenting with his ex.
"We co-parent really well together," the 49-year-old told E! News in October. "And we don't fight over time with the kids. We try and alternate holidays between Christmas Day, Christmas Eve."
"But we're open to things changing," Brian—who also shares Kassius Marcil-Green, 20, with actress Vanessa Marcil—explained. "I'm very aware of—and so is she—that our schedules are insane. So when we do get time, cherish it. It's an amazing thing and we support the other parent having time."
And the co-parenting support goes beyond coordinating schedules. In fact, Brian recently came to Megan's defense after a former Congressional candidate claimed that she forces the former couple's sons "to wear girls clothes."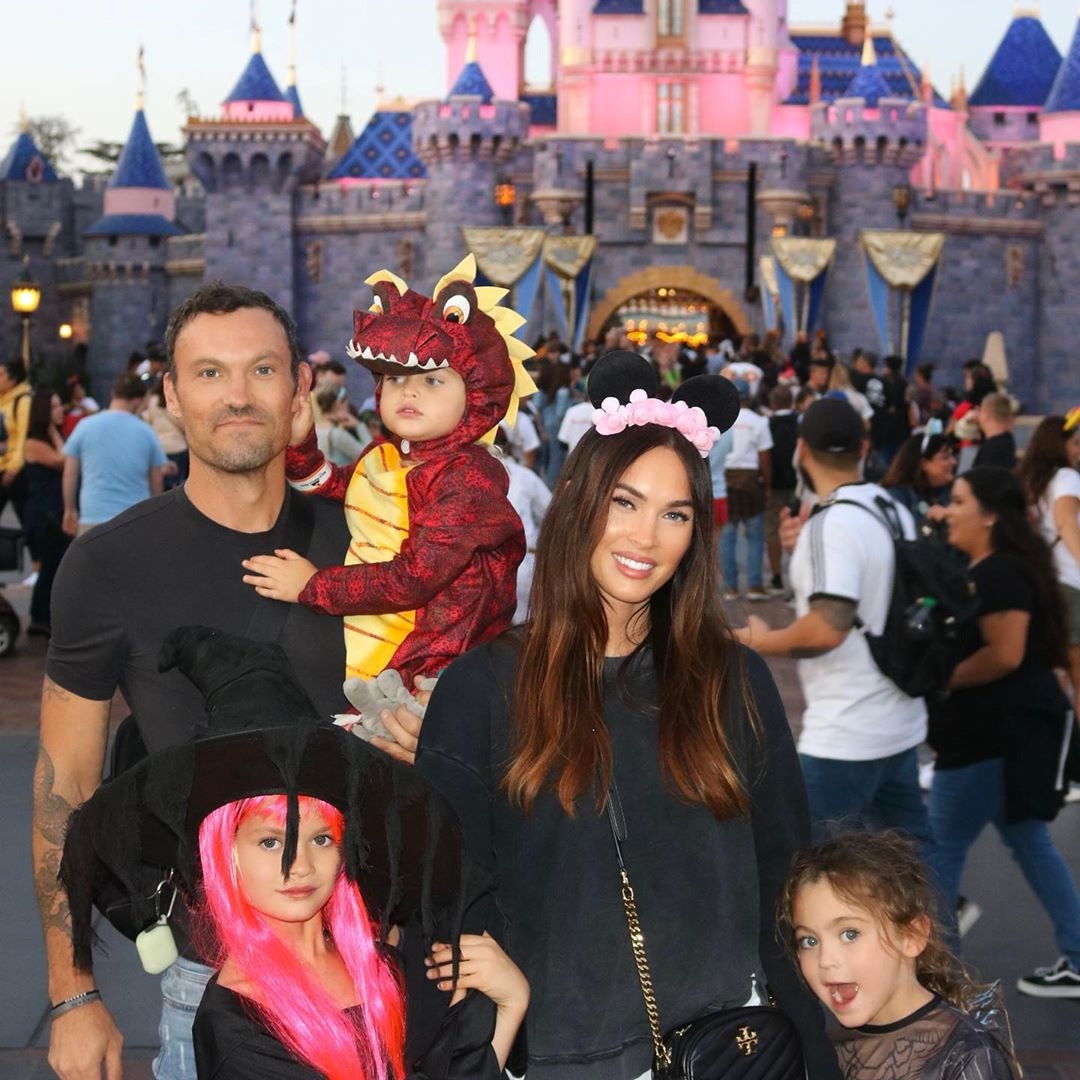 Instagram / Megan Fox
"It's a totally bogus story," Brian told TMZ. "There are only a few people in their world that can actually verify whether [sic] or not a story like this is true and I can tell you with absolute certainty it is not."
"This person trying to claim this is true," he added, "is a perfect example of someone with selfish motives that does not care about negatively affecting a parent child relationship."