Following the reports that Mcbrown has officially ditched UTV for ONUA TV, Despite Media's Kwame Nkrumah Tikese took to OKAY Fm to express his complete disappointment in the actress for betraying her former bosses
Subtly, it seems Mcbrown was begged to stay at UTV but notwithstanding the numerous pleas, she still tendered in her resignation letter.
Kwame Nkrumah who appears to know more about the inside story has indirectly called out the actress-cum-TV show host for being ungrateful.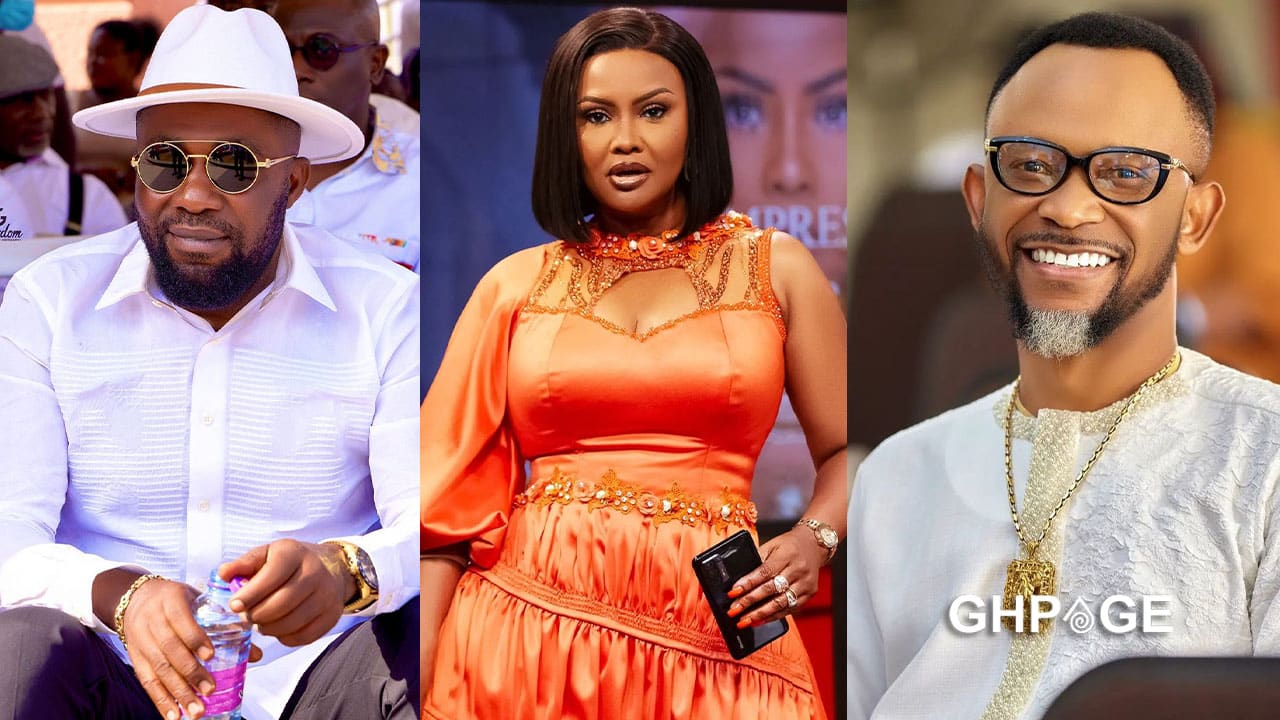 Citing the coded message he gave out on radio earlier this morning – Mcbrown betrayed the trust Despite and Fadda Dickson had for her because they never expected her to ditch them in such a manner.
According to Kwame Nkrumah, Mcbrown will regret her hasty decision to dump UTV for ONUA TV very soon because Karma will mercifully deal with her on their behalf.
While berating Mcbrown, he adopted Obouba J.A Adofo's popular Mayeyie Ne Sumina song to mock and 'expose' the actress.
Watch the video below to know more…
Fans and admirers of the star actress have come out in their numbers to dirty Kwame Nkrumah Tikese for dragging their queen.
According to them aside from fighting hardworking women just like he did to Vim Lady to gain relevance on social media, there's nothing he's good at.
Below are some of the 'missiles' Mcbrown's fans and followers fired at Kwame Nkrumah Tikese…
Perez Senyo Ahadjie – Kwame Nkrumah Tikese is a complete unprofessional and a village champion. He's a disgrace to the Despite brand. Why is he always fighting women?
Didn't he start radio from somewhere before coming to where he's today?
What has been his contributions and followership to the brand he's insulting and cursing somebody for?
In any civilized jurisdiction, he would have been fired on air the very first moment he started saying those thrash? Village champion
kua Apyaa – What was the terms of her contract with Despite Media? This is outrageous! How can you rain curses on someone for leaving your space to another?
Nana Bridget – U made who?,,u this man ankasa,,u talk paaaaa why,,so can't she move on,I beg,,if u feel like moving on pls do,, freedom of movement is allowed,,aha!
Fiifi Sam – Nkwasias3m . So people shouldn't evolve in life? She shouldn't seek new challenges? Ghana ankasa play dey wonna eye top too much.
Torgbui Benson Afiawo Reuben – I haven't been a fan of Nana Ama Mcbrown for personal reasons but sincerely speaking, Despite media can't say they taught her everything. It's sad. She started off as an actress and those were the days we got to know of her. As an actress, you must definitely know how to talk. She did this kitchen thing at TV3 for long before Despite media discovered her. She had bagged lots of experiences before her discovery. Despite media workers are just in pain. TV3 lost workers, Multimedia has and Citi just did recently but it wasn't a big case like this. Despite, why?
Se Lorm – Because you've made her she's supposed to be a slave to you? They equally benefited from her popularity and that's the very reason why they brought her on board. She has delivered and made you as well. They should allow the lady to move on and stop this kind of hatred and jealousy.
Amira Nash Charlie – Seriously??? Eiii so she have no right to change to a different company… do you feed her… foolishness in the highest
Kwadwo Boateng – Bra come again !! U made Nana Ama who she is ?? Is it a different Nana Ama or the Nana Ama we know from old days. I think the man doesn't understand what he is saying.
Asonaba Kyekyeku – Nana Ama was popular than the UTV koraaa before she Joined UTV . Go to some villages in the country they know Nana Ama more than utv. You can't stamped her da
ghpage.com