Tickets for Arsenal's final day of the season clash with Wolves are being sold for as much as €50,000 (£44,000), with Gunners fans clamouring to be at a potentially historic day in the club's history.
Arsenal currently sit atop of the Premier League table, eight points clear of nearest rivals Manchester City, and within touching distance of their first league title since 2004 – when they went the whole campaign unbeaten.
The Gunners have around 40,000 season ticket holders, leaving just over 20,000 tickets for the reported 40,000 silver members – who pay £54 per year to have second option on tickets for games – to attempt to snap up.
As expected tickets for the final day of the season meeting with Wolves, and potential lifting of the Premier League trophy, were snapped up quickly.
Sadly for a large number of Arsenal fans, however, a copious amount of tickets seem to have been bought by 'ticket touts' who are now reselling them for astronomical prices.
Tickets for nose bleed seats in the upper tier are currently on sale on Stubhub for around €28,000.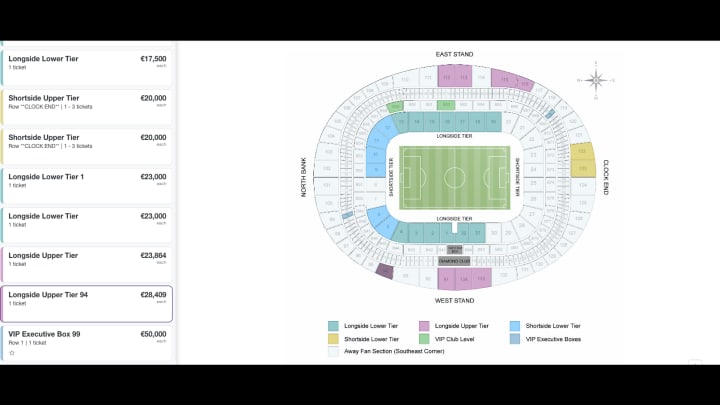 Stubhub tickets /
While the VIP Executive Box tickets are going for a staggering €50,000 each.
Stubhub tickets /
---
Premier League most expensive season tickets
Arsenal season tickets are currently the second most expensive in the Premier League, topped only by arch rivals Tottenham Hotspur.
The most expensive season tickets are Arsenal cost £1,839 for the 2022/23 campaign, while the cheapest cost £927.
Tottenham's high-end season books top out at a ludicrous price of £2,025.