AJ Michalka might be in for the easiest bridesmaid duty in modern wedding history. 
After her former Goldbergs co-star Hayley Orrantia got engaged in June 2022, AJ knew a phone call wasn't far behind. 
"We always told each other throughout the years, 'Oh, you're bridesmaid material, this is probably going to happen,'" AJ exclusively tells E! News. "And now it's happening for her and I can't wait to do the same."
So, with wedding planning in full swing, things must be quite chaotic and for AJ, Hayley and the rest of the bridal party, right? Not so fast, says AJ, who has been dating boyfriend Josh Pence since 2017.
"All of it is booked," AJ reveals. "She has a particular maid of honor who is so on it and has created Google Docs and travel plans and [says], 'This is what the bachelorette will look like and the shower and the wedding.' It has been awesome."
It pays to have organized friends!
"I'm a bridesmaid of 10 because Hayley has a really big friend group," AJ explains. "I think I'm one of the only L.A.-based girls. I think most of the friends are like Nashville or Texas. I've been able to just cruise because there's a maid of honor that's just really handling the details. I can't wait to just jump in and be on the ride with her."
As for AJ's professional relationship with Hayley, that recently got a chance to flourish, too.
AJ returned to reprise her role of Lainey Lewis, the best friend of Erica Goldberg (Orrantia), on the Feb. 22 of ABC's The Goldbergs. The actress appeared regularly as Lainey throughout the sitcom's first six seasons from 2013 to 2018.
Because AJ is only able to return to The Goldbergs sporadically these days, every time she does is cause for celebration amongst the cast—especially Sam Giambrone, who plays Adam Goldberg, Troy Gentile, who plays Barry Goldberg, and, of course, Hayley.
"When it is me, Sam, Troy and Hayley, it is kind of bonkers," AJ says. "It's to the point where they're like, 'OK, we need to get back on set. That's enough talking.' I do think it's because we've grown up together, in some ways, and known each other for 10 years. These are my really good friends off camera and on camera."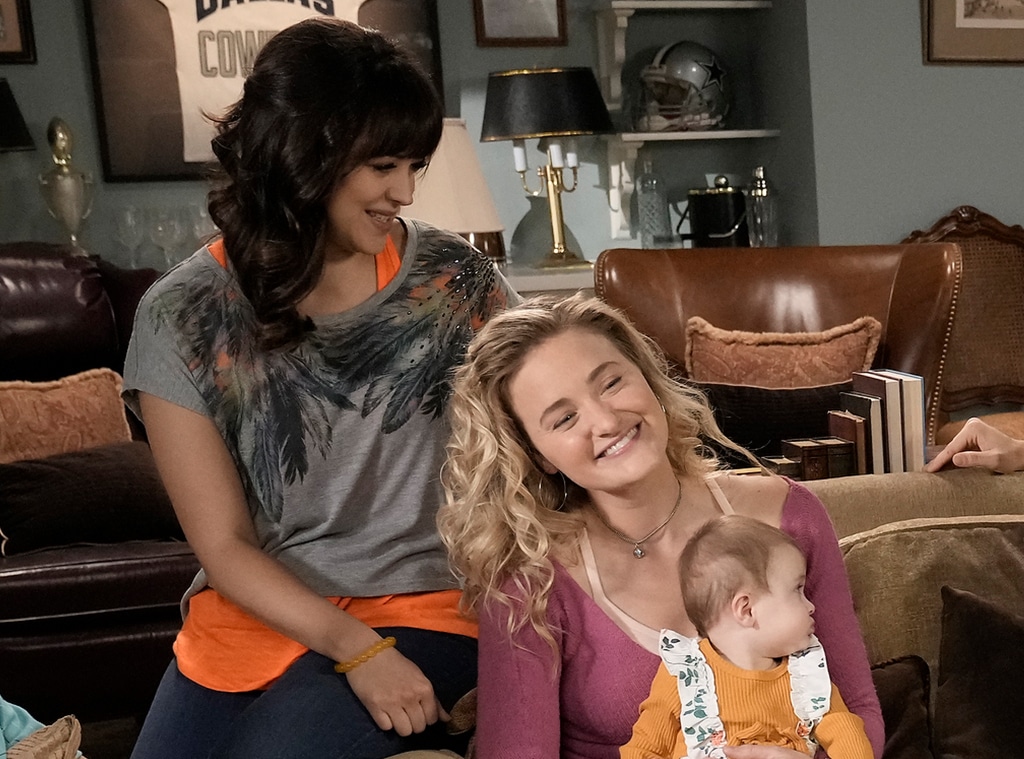 ABC/Scott Everett White
AJ is hoping that her season 10 performance isn't her Goldbergs swan song, either. 
"I love bopping in and out of the show," she says. "I've had an opportunity to be on a show for 10 years and be a part of every season, whether it's a little or a lot. I'm really blessed to have it. I hope that season 11 brings more."
If nothing else, there's always the wedding.
The Goldbergs airs Wednesdays at 8:30 p.m. on ABC.