Anita Sefa Boakye's husband, Barima Osei Mensah, has broken his silence on allegations of cheating on his wife with a certain lady.
Barima allegedly said that the rumours are nonsense and have no merit.
Controversial busybody Adu Safowaa made the claim that she's spoken to Barima who told her his side of the story.
She claims he's denied the allegation and that everything is fine in his marriage.
Safowaa wrote on Instagram: "…I called Nana Barima (Adinkra)…they are fine, very fine. Marriage or relationship is no joke."
"When we pray, let's pray for the best," she added..
Safowaa's comments follow a bombshell report alleging that Nana Osei Barima has cheated on his wife this early into their marriage.
An anonymous source recorded an audio revealing that he knows a lady having an affair with the Adinkra Pie CEO.
According to him, Nana Barima is fed up with his marriage and seeking comfort elsewhere.
He alleged that Barima claims his wife never has time for him because she always has somewhere to be.
Barima is alleged to have told his sidechick he loves her and wants to settle with her because his marriage is a sham.
Following the release of that audio, Adu Safowaa came out with her claim of having contacted Nana Osei Barima.
Check her full post below…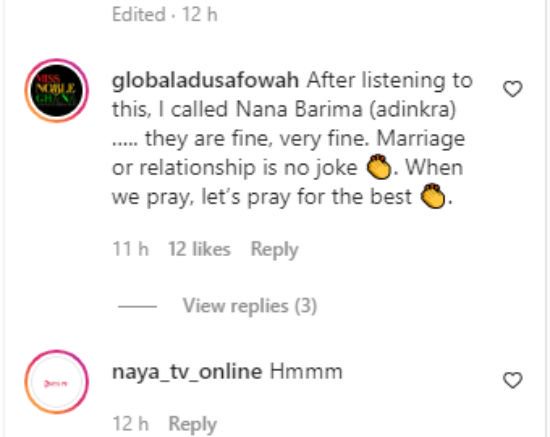 Ghanacelebrities.com