Johnnie Hughes today took his Bite to an international level when he hit hard at American Mega church founder, T. D Jakes, Thomas Dexter Jakes heads the mega Potter's House in the United States and is considered to be one of the greatest ministers of America.
While talking to his congregants about the development push that Africa has made paid glowing tributes to the leadership of President Akufo-Addo.
According to T.D Jakes, 7 years ago when he was in Ghana he saw dirt roads, no hotels, very few buildings and even the citizens were wearing meagre clothes. He praised the good leadership the country is receiving now under the leadership of President Akufo-Addo for the immense development. He praised the country's good roads now, classy hotels and way of living.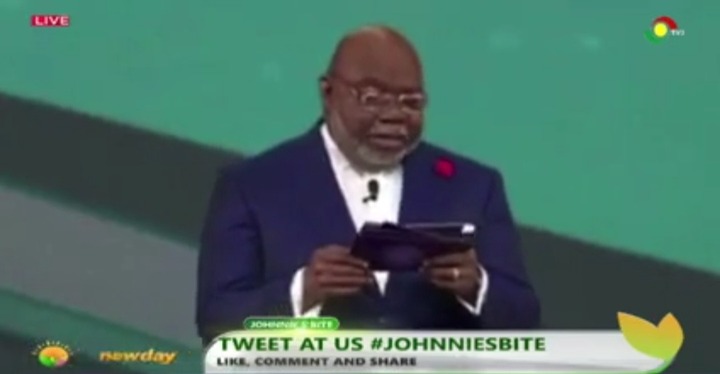 "Who gave you what you read? You cannot do that? Didn't they tell you that in travelling the president used an expensive jet? Some of the things you said are accurate but most are not. Papa Osofo paa. Seven years ago wasn't Kempinksi in Ghana? Was the George Walker Bush and Atta Mills roads there? Please come again Osofo?
Johnnie called on Bishop T.D Jakes to go over his notes and speak again because it was clear that the information he was reading out wasn't entirely accurate. He insisted that Ghana isn't all that well under Akufo-Addo. He concluded that the man of God made Ghana look like Paradise. He charged those who those who gave the information to Bishop Jakes to read to come learn.
operanews