Serious allegations have been levelled against Ghanaian musician, Stephen Fiawoo, aka Praye Tietia of the defunct Praye music group by a lady identified on Facebook as Jennifer Ama Honu.
According to Jennifer Honu, Praye Tietia destroyed the life of her sister by making her a mother of three but refused to marry her.
The lady was angry after a Facebook post praising the musician and his wife Selly Galley as a perfect celebrity couple who have stayed together through thick and thin.
Jennifer stated that the musician was in a relationship with her sister which brought three kids but dumped her for the actress and television presenter.
She said Praye Tietia messed up the future of the sister by making her a baby mama and refusing to take care of her.
"U made my sister a baby mama, dropped her n messed her bright future up till date- ofui boy," Jennifer Honu wrote on Facebook.
The lady added that the three kids Praye Tietia had with her sister were two boys and a girl with one currently in Secondary School.
"yes-they have 3 children together (one girl n 2 boys, first one, boy in secondary school now, form2) ; meaning he left her as "excuse me" born 3 before jumping onto this lady," she added.
Jennifer Honu did not mention the name of her sister, the supposed baby mama of Praye Tietia and she did not name the kids either.
As far as we know, this is a rumor and we'll treat it as such until evidence is provided to that effect.
Praye Tietia is legally married to the beautiful Ghanaian actress and television presenter Selly Galley.
Screenshot below.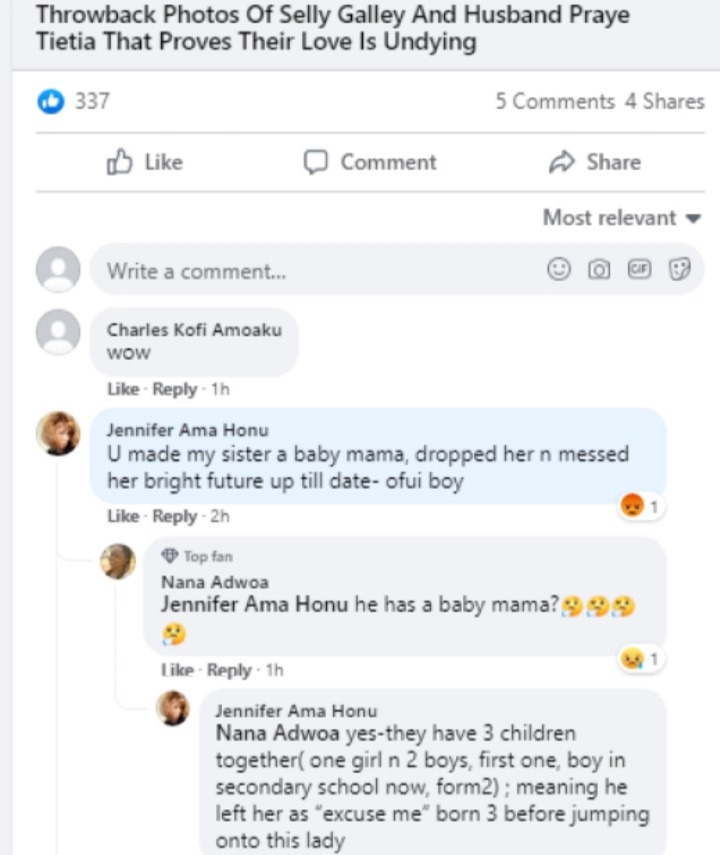 Source: operanewsapp.com