A five year old girl has been defiled by her Arabic teacher named Abdul Mugis and Bridget Otoo is blaming the girl for the cause.
According to Bridget Otoo, the five year old girl must have definitely enticed Abdul Mugis.
She also said, if the five year old girl did not want to be defiled, then she would not have followed her Arabic teacher.
After Bridget Otoo made this allegation, she ended by saying, don't make up excuses for animals and this statement clearly indicates that, Bridget Otoo support the Arabic teacher, Abdul Mugis for defiling the five year old girl.
She made this allegation on her Twitter page.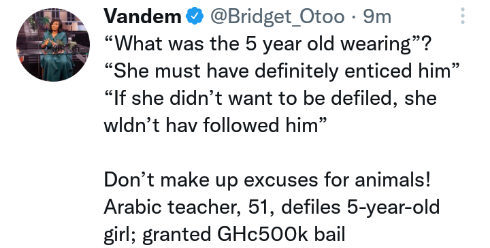 Bridget Otoo started this allegation when Abdul Mugis was granted a bail of five hundred thousand Ghana CEDI's (GHS 500,000).
The case have been postponed to January 10, 2021 and Abdul Mugis is to produce three (3) justified guarantors in addition to the bail.
Source: Latestnewsupdate.gh