What is the trophy about?
The Balon d'Or is an annual football award presented by the French news magazine, France Football. First awarded in 1956, it is given to the best player in the world in a particular year.
How is it made?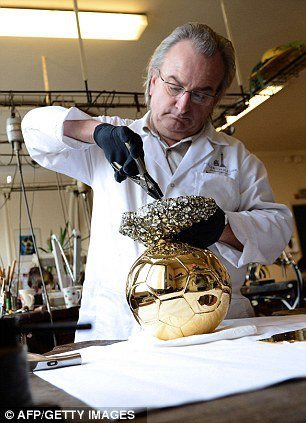 The following people are used to make the trophy:a silversmith, repousseur, chaser, engraver, gilder, and polisher.
Two semi spheres that are formed from brass plates, which are shaped by hammering from the reverse side(in french, the technique is called repousser)
The two parts are then welded together by a goldsmith with a blowtorch. The chaser then fills the ball with a compound material known as pitch. Using a chisel and hammer, he draws on the smooth surface of the metal to form the seams of the ball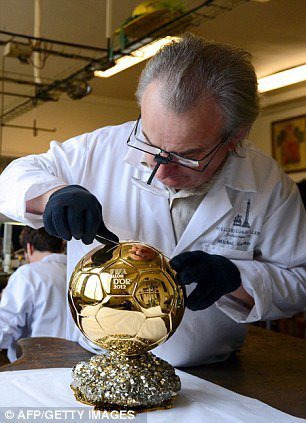 After completing his work, he empties the pitch from the ball and hands it back to the goldsmith for polishing and engraving with the FIFA Ballon d'Or logo.
The trophy is then dipped in liquid gold before being fixed on a pyrite plinth.
The exact dimensions of the trophy are 31 centimeters high, 23 wide, and 23 deep.
The name is never engraved from before. Only after the name is announced and the award ceremony is done, the name is written on it.
So in summary, the Balon d'Or mainly contains Brass. Brass is used to form the round shaped art which is then filled with Tar (involves various steps like hammering, welding using blowtorch, chisel, etc). Tar is removed at a later point and handed off to the Goldsmith, who does the final magic using Melted gold as the last process to make it look like what we are used to seeing being handed over to our favorite player.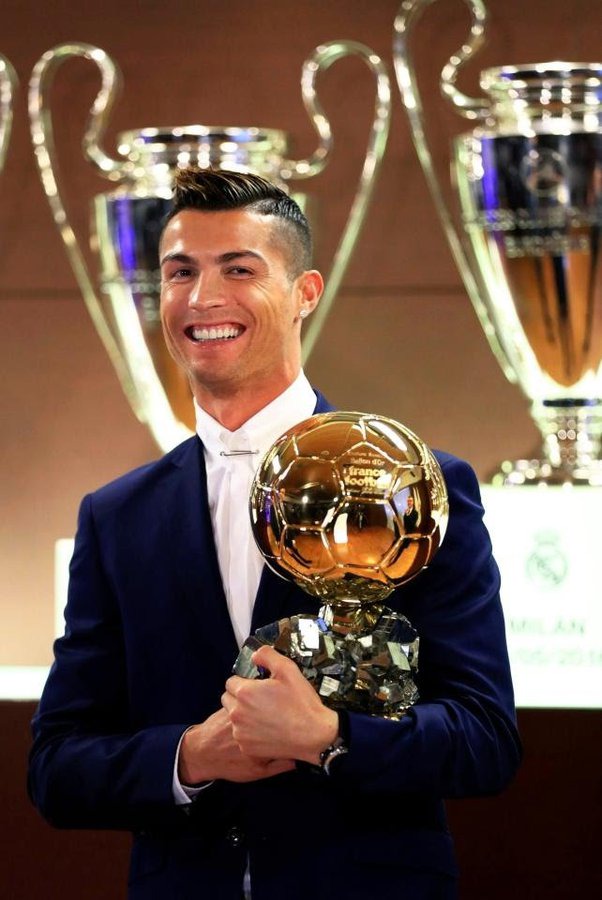 Source:Operanewsapp.com