Today is International Women's Day, a day set aside to celebrate women all over the world.
As part of 's celebration of women, the team went up-close with the Chief Executive Officer of Ghana's Food and Drugs Authority (FDA), Delese Afia Mimi Darko, simply known by many as Mimi Darko.
Mimi is the first ever woman to emerge as CEO of the FDA, putting her up there among some of Ghana's extraordinary women achievers. 
Mimi's story should inspire and teach other women around the world to persevere in the spirit of this year's IWD theme, #ChooseToChallenge.
Childhood life
Delese Afia Amoako Osei-Bonsu, as she was birthed fifty-five years ago, is the fourth of five children and the first daughter of her parents whose birth brought joy to her parents.
The name 'Mimi', as was given her by her brother became the most popular of all her names.
Delese was named after her grandmother and was supposed to have been called 'Mama' but as she explains to adomonline.com, a defiant older brother refused to identify her as 'Mama', by calling her 'Mimi' instead.
Mimi Darko, as she is now famously known, is the daughter of Mr K. G. Osei, a former Commissioner for Information, who she described as an introvert, very principled and honourable gentleman, and Madam Justina Osei who was nothing short of extraordinary, a compassionate, loving, warm mother who was always full of smiles.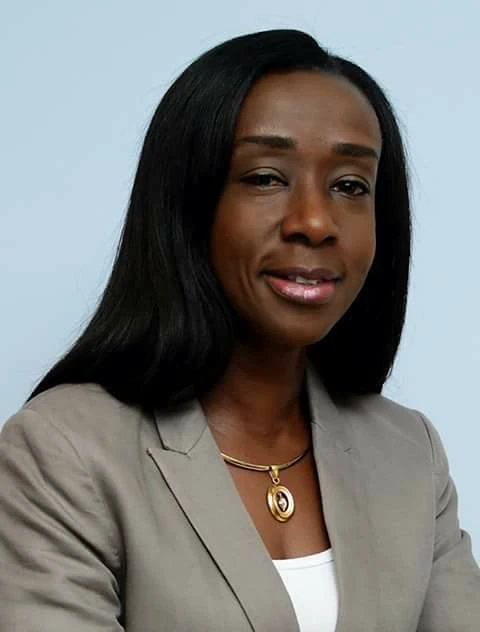 Educational Background
Mimi Darko started schooling at Mrs Agyemang Nursery School, a school owned by the mother of Mrs Konadu Agyemang Rawlings, Madam Agyemang.
She later attended Christ the King School, after which she had the opportunity of being admitted to Achimota Secondary School where she took her O' Level from form 1 to 5.
She then went abroad for her sixth form education before subsequently returning to Ghana for her tertiary level education.
The University of Science and Technology, now Kwame Nkrumah University of Science and Technology (KNUST) was where she studied Pharmacy and graduated in 1991.
Mimi later bagged a Mater Degree in Business Administration at the University of Northampton.
Internship and Professional life
The Pharmacy Board was where Mimi had her first internship where she was assigned to the Regulatory arm of the Board.
Mimi also spent some of her early working life at the Police Hospital's Maternity Board and as she recollected in her interview with us, she was fascinated by childbirths such that nurses prompted her on new delivery cases, so she could witnesses the process of child delivery including Caesarian Sessions.
Though she was a temporary staff who worked twice a week, Madam Delese confessed to loving her stay at the Police Hospital than the Pharmacy Board.
Her awe-inspiring work ethics and skills caught the eye of the Pharmacy Board who was obliged to keep her on as a permanent staff upon completion of her national service in 1991.
Madam Delese Mimi Darko worked at the Pharmacy Board for eight years before it morphed into Pharmacy Council and Food and Drugs Board.
Since the creation of the two entities in 1997 to date, Madam Delese has served at the Food and Drugs Board, now Food and Drugs Authority where she rose through the ranks, having served in every department of the institution, starting from the laboratory.
On February 4, 2017, Madam Delese entered the history books as the very first female Chief Executive Officer (CEO) of the FDA, having won President Akufo-Addo's heart with her extraordinary work ethics.
Recounting the life-changing experience, she said she was at work when she received the call after which she picked up her appointment letter from the presidency.
On picking her letter, Mimi said she went straight home to her father and later, Mrs Ama Busia for their blessings.
She described her appointment as a blessing and an indication of the grace of God upon her life.
Prior to her appointment, she was the Head of the Clinical Trial and Safety Monitoring Division.
In all, the FDA boss has served for 30 years in the organization; designing the FDA's first logo as well as leading the rebranding of the institution to meet international standard.
In the process, she has bagged a number of awards and chalked a number of achievements, a few of which we list below:
Awards
Ghana Business Standard Award – Female Business Leader of the Year
Youth Leadership Award – The Transformer Awards
2019 Glitz Africa Awar – Woman of the Year in Health
13th Gong-gong Awards – Special Recognition Award
She was also nominated for the UN Interagency Taskforce on the Prevention and Control of NCDs Awards
Marriage
Madam Delese was moved from being the daughter of the Osei-Bonsus to becoming the wife of Rexford Darko.
It was a love at first sight for Mr Darko when he met Mimi in the house of a mutual friend while she was in the first year of KNUST.
Years down the line in their relationship, sumptuous meals prepared by Mimi with her mother's shrimps were enough for Mr Darko to decide to formalize their union in 1995, after seven years of courtship.
Their perfect relationship has brought forth two children: 25-year-old, Alexandra Justina Nana Ayebeah and 23-year-old, Berima Ayeh Darko.
Church
Mrs Mimi Darko has been a member of Christ Embassy Church since 2000, where she serves as a Deaconess and Cell Leader.
Delese Mimi Darko is an inspiration to many young women who are either aspiring or on the path to being medical practitioners.
Her most striking personality traits are dedication, perseverance and perfectionism.
It is safe to say that in few years to come when she will take a bow from public service, Madam Delese Mini Darko will have left an indelible mark on FDA, and firmly etched her name into the history makers' books as one of the best to ever emerge in the Authority, if not the very best.