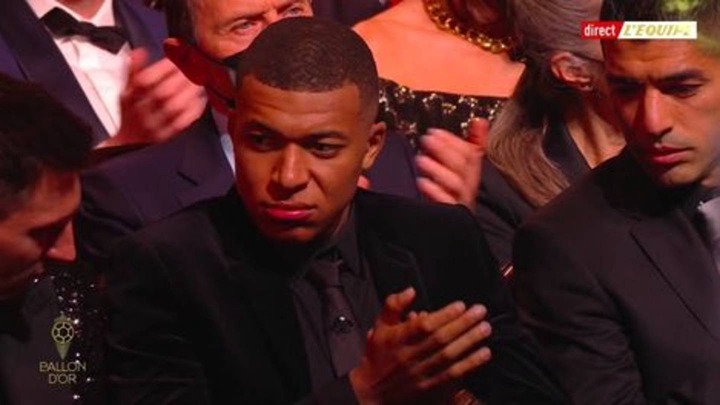 Kylian Mbappe looked utterly furious after finishing ninth in the 2021 Ballon d'Or rankings.
The Frenchman was in attendance at the ceremony in Paris, where is currently playing his football despite wanting to leave the French capital for a new challenge.
He was all smiles earlier on when he signed a France national team jersey for Formula One driver Esteban Ocon, who presented the Ballon d'Or trophies alongside Fernando Alonso.
But when he learned his position in this year's Ballon d'Or, Mbappe's face turned very sour and the cameras panned to him as he sat next to Lionel Messi and Luis Suarez.
Mbappe reacts to coming 9th at the Ballon d'Or ceremony 😬 pic.twitter.com/pVzdEUWXbF
— Project Football (@ProjectFootball) November 29, 2021
Mbappé reaction to being 9th in the Ballon d'Or #BallonDor #Mbappe pic.twitter.com/7iYtGjGqyF
— RonaldoFan7 (@ManUtdRonaldo7) November 29, 2021
pic.twitter.com/VdTIcklsD4
— Get French Football News (@GFFN) November 29, 2021
Kylian Mbappé's reaction to being named 9th in the #BallonDor rankings 😒😒 pic.twitter.com/115dfZNb8b
— talkSPORT (@talkSPORT) November 29, 2021
In 2021 on the whole, Mbappe scored 45 times and assisted 20 but found himself at the lower end of the top ten.
The 22-year-old's highest Ballon d'Or finish came in 2018 when he finished fourth after playing an integral role in France's World Cup win.
He was seventh in 2017 and sixth in 2019, while last year's prize was scrapped due to the COVID-19 pandemic.
Source:sportbible.com