Yesterday, Kwame Sefa Kayi revealed that he had been humbled by a message that was sent to him by one of his viewers on Facebook. He made it clear that, he does not come across these type of messages much often but any time he sees one, he gets humbled.
Sefa Kayi indicated that, the message was from a young man who took advantage of a little piece of advice he shared publicly on one of his shows. The young man took an inspiration from the advice and it changed his whole life.
According to Sefa Kayi, the advice he shared was that, young people should follow their dreams, pay less attention to criticisms and above all, put God at the center of their endeavors.
Sefa Kayi revealed that, one of his Facebook followers who was watching and listening to his show at that time made use of the advice and he it has completely changed his life.
The message that this young man sent to Kwame Sefa Kayi on his show was very humbling and it read, "I am very happy this morning I will like to thank God and you, Kwame Sefa Kayi for the short message you shared the last time. I took inspiration from the message and my life has completely changed. Thank you so much. May God bless you".
As Sefa Kayi read the message in the comment section of the live broadcast of the show on Facebook, he said that he felt humbled and delighted by the message.
"I have been humbled by this message. I just hope that many more people will take such advices from me and use them properly. May God continue to bless you all and keep you going forward in life", Sefa Kayi said.
See comment below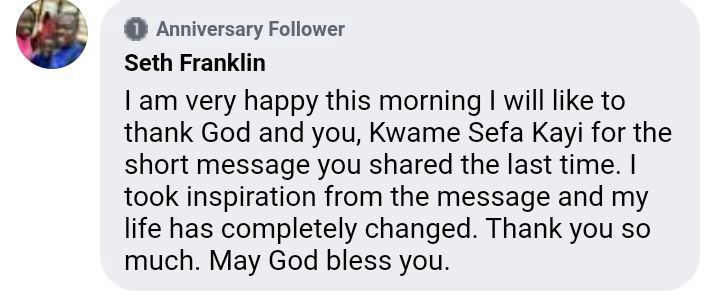 Source: operanewsapp