An inmate by name Kwabena has given a vivid account on how he was arrested and jailed. He made it known to Ibrahim Oppong on his YouTube channel crime check TV.
According to him, he was never a criminal nor a robber but he knows how to drink and smoke since he operates a small alcoholic bar and sells cigarette as well. The business has been fetching him money which he uses to cater for his wife and children.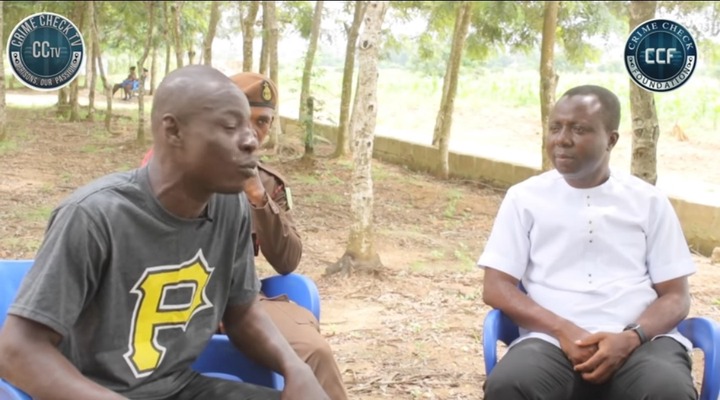 He said aside the bar he operates, he also does small scale mining which is locally termed as galamsey. Recounting on how he found himself at the prisons, he said he broke into a hotel and stole a huge amount of money which later got him arrested. The host asked him why he was working alright but decided to engage himself into robbery, he said he turned into that because of some customers he met at his bar. He said those customers were armed robbers so anytime the come to his bar, they will be talking about how good the business is and how they have been getting a lot of money out of it.
Kwabena said he then decided to join and started breaking and looting. One day it was around 11:30pm where he told his wife he was going to check up on something. He then went to a hotel and secretly entered one of the rooms where a man and his wife was asleep. He managed to pick the man's short knicker and removed huge amount of money from it.
He finished the operation without anyone noticing. He went and spent the money with his friend and those friends betrayed him to the police. He was somewhere enjoying himself and got a call by his friends that the police are looking for him.
He was then sent to the custody of the police, arraigned before the court of law and sentenced to prison for the crime he committed. It is very sad that someone who doesn't know anything about robbery was able to be influenced by his customers and ended up in jail. It is really a life lesson.
Source: operanewsapp