Some videos and photos have gone viral on social media which emanated from a marriage ceremony over the weekend. This happened between Edwina Nana Dokua Akufo Addo, the daughter of Ghana's President and Kwabena Jumah, son of Managing Director of GIHOC Distilleries Company Limited Kofi Jumah who is also a former Mayor of Kumasi and former member of parliament for Asokwa. Kofi Jumah was also former deputy minister for local government under the Kuffour administration.
Since the photos popped up, many have been reacting with some commending the couple for a simple ceremony despite the background of the two families who are influential and well to do.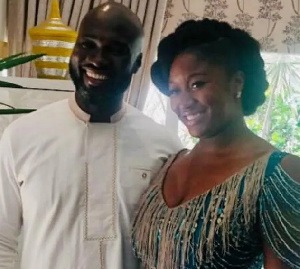 Father of the groom Kofi Jumah confirmed the news on Accra based Okay 101.7 fm on Monday morning and how his eldest son Kwabena told him a year ago about a lady he wanted to introduce to him. Kofi Jumah said when he met the lady his son talked about, he immediately recognised her as the president 's daughter. He mentioned the two apparently met in America about four years ago.
"When I got to know it was the President's daughter, I had to look at my son's commitment level to the relationship because this is not something you can go into and leave just like that. I needed to be sure he was into the young lady," he said.
"My son told me that they met in America and she did not know that I am his father and he did not know that the President was her father. He said they had known each other for the past four years."
Kofi Jumah spoke of the President's daughter's humble nature and the fact that she does not portray she is even the daughter of the President adding that she's always with him and his family.
He pleaded with Ghanaians not to involve politics in the marriage of their children because he wants them to do well in their marriage.
He eulogized Dokua as a very humble lady who visits and partakes in family activities and many people didn't even realise or recognise her. He mentioned how he adviced his son to take his time to ensure he was ready and committed to her for the long haul. He expressed joy and wished the couple well.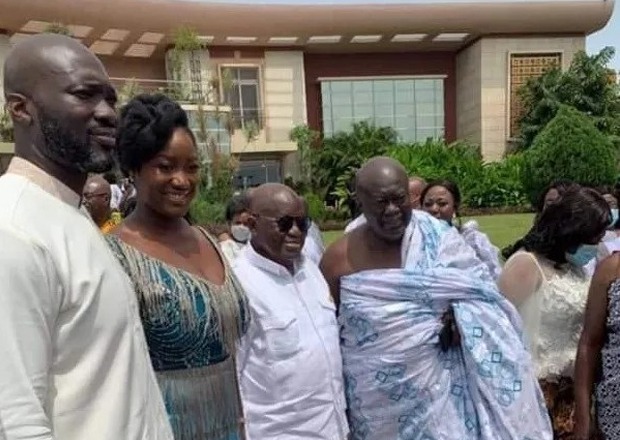 Congratulations to Kwabena Jumah and Edwina Nana Dokua Akufo-Addo. May God bless their union.Content created and supplied by ZealAfrica.