Reports indicate that parliament will soon be served with new developments of the Agyapa Deal. President Nana Addo Dankwa Akufo-Addo and his associates seem not to give up on this deal.
The National Democratic Congress (NDC) parliamentarians together with former President John Dramani Mahama believe that this deal only seeks to benefit Akufo-Addo and his family but not Ghanaians.
The former Special Prosecutor, Mr Martin Amidu also highlighted some reasons why our gold cannot be allowed to be invested with Agyapa Royalty Company. Some NDC activists even believe that the Finance Minister, Hon Ken Ofori Atta's Databank has some benefit to be derived from this deal. Martin Amidu, NDC and John Mahama boldly described the Agyapa Deal as a corrupt deal.
So for some time now, this deal seems to die off. But reports indicate that the Finance Minister will soon storm parliament with new details of the Agyapa deal for parliament to vote and approve or disapprove this deal.
This propelled Tilapia The Cartoonist to come out with a new artwork showing how the new development of this deal was cooked. In the cartoon is the Senior Presidential Advisor, Hon Yaw Osafo Marfo, the Attorney General, Mr Godfred Dame, the Finance Minister, Ken Ofori-Atta and President Nana Addo Dankwa Akufo-Addo. According to Tilapia The Cartoonist, these state officials are doing everything they can for parliament to accept this deal.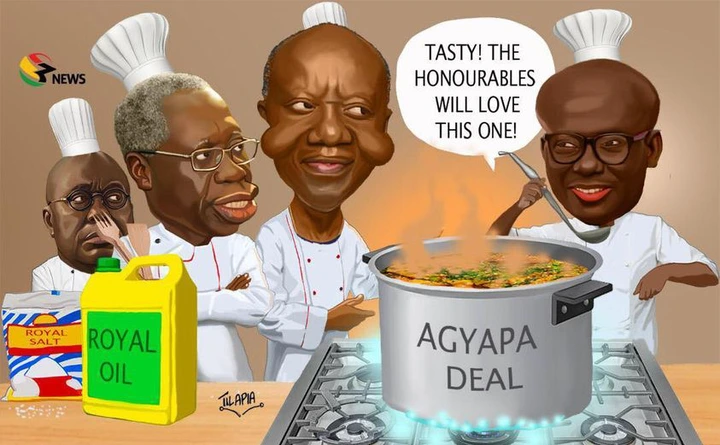 Source: operanewsapp