Inarguably, women, since time immemorial have been an engine of change, and inspiration of several developmental activities in various places in the world. In the world of history, omission of Ghanaian women would either make history incomplete or entirely orderless.
In the history books of the world truly captures the true representation of great and powerful women who have paved way for societal continuity, progression, and as well put an end to certain inhumane practices against women across the world, particularly in Africa.
With just a single statement, and in one night, Annie Ruth Baeta Jiagge was able to able to come out with a document called The Declaration on Elimination of Discrimination Against Women, to end injustices against our women, in all parts of the world.
That is why Ghanaian women continue to be celebrated and appreciated in every part of our world today. Probably you might have not come across several of them, including their works, but I believe with time, when you are completely immersed in the historical fountain of Ghana, you will totally embrace their priceless legacies.
Journey with me in this comprehensive piece of reliable information, as we interactively and gleefully unfold the life chapters of a powerful woman who coined 'Kwashiorkor', and eventually fought the disease in a very resilient manner.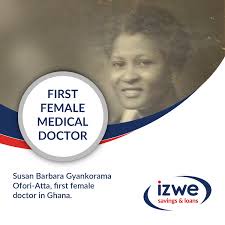 Born in Kyebi in 1917 to Nana Sir Ofori-Atta I and Nana Akosua Duodu, Susan Barbara Gyankorama Ofori-Atta (or de Graft-Johnson), DRCOG, DRCPCH, FGA reigns as the First Ghanaian woman to become a Medical Doctor and the Fourth woman to earn a University Degree in West Africa. She is also the brain behind the establishment of Women's Society for Public Affairs. Susan was additionally a Foundation Fellow of the Ghana Academy of Arts and Sciences and a Founding Member of the Paediatrics Department of University of Ghana Medical School.
After receiving her Secondary School Education from Achimota School in 1929, she further studied Midwifery at Korle-Bu Midwife Training School, and graduated in 1945. Additionally, Susan had an opportunity to further her studies in Midwifery in Scotland. Subsequently, she was offered another chance to study at Edinburgh University Medical School in the United Kingdom, and in 1947, she graduated with MBChB Degree.
Susan Ofori-Atta worked as a Midwife and Paediatrician in several Medical Settings including Korle-Bu Teaching Hospital, Princess Marie Louise Hospital, among others.
After exploring the medical field, and serving in various capacities for several years, she finally opened her own Private Clinic for women and children.
Due to her excellent and exceptional Childhood Nutrition (Kwashiorkor) works, she was awarded an Honorary Doctor of Science Degree by the University of Ghana, Legon, in 1974. Her work became a key area of concern for worldwide researchers, and up till today, Nutritionists and Scientists continue to do extensive investigations into her subject matter.
In the Ghanaian legal arena, Susan Ofori-Atta performed a great advocacy role, and fought resiliently for children and spouses of deceased persons in the Alan Inheritance System. Due to her tireless efforts, the Government of Ghana, in consultation with the Judiciary and the Legislature passed the PNDC Intestate Succession Law in 1985. Prior to that, she played a very key role in the drafting of the Second Republican Constitution of Ghana, in 1969.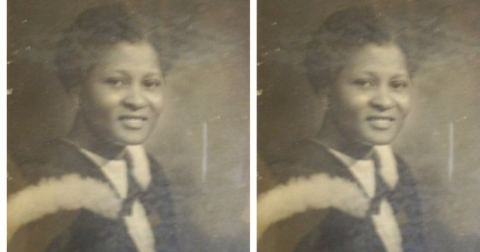 Susan Barbara Ofori-Atta married a renowned Ghanaian legal practitioner called E.V.C de Graft-Johnson. This man we are talking about was the cousin of Ghana's Vice-President, between 1979 and 1981.
Meanwhile, E.V.C de Graft-Johnson was, and still well-known in the Ghanaian history books, as the only person who protested outside the Supreme Court buildings, concerning a case of legal principle. He was also the Vice-Chairman of Social Democratic Front (SDF).
Mrs. de Graft-Johnson was named after a Girls' House at Achimota School, after her demise in the United Kingdom in July 1985, at the age of 67/68.
Source: operanewsapp