The Founder and Leader of Prophet Hit Chapel, Prophet Nigel Gaisie has been sued by host of NET2 Television's 'The Seat Show', Kwaku Annan to the tune of Two Million, and Five Hundred Thousand Ghana Cedis (GHC2,500,000.00) as damages for defamation. This comes after an invitation by lawyers of Kwaku Annan to have Nigel Gaisie retract and apologize for making derogatory remarks about the former on television and social media.
The plaintiff, avers Prophet Nigel Gaisie labelled him as blackmailer, whose interest is to extort money from pastors and women with threats of disgracing them on his platform. Among other accusations which Kwaku Annan finds to be untruth and defamatory, is a claim that Nigel Gaisie had accused him of taking bribes and to an extent calling him a thief.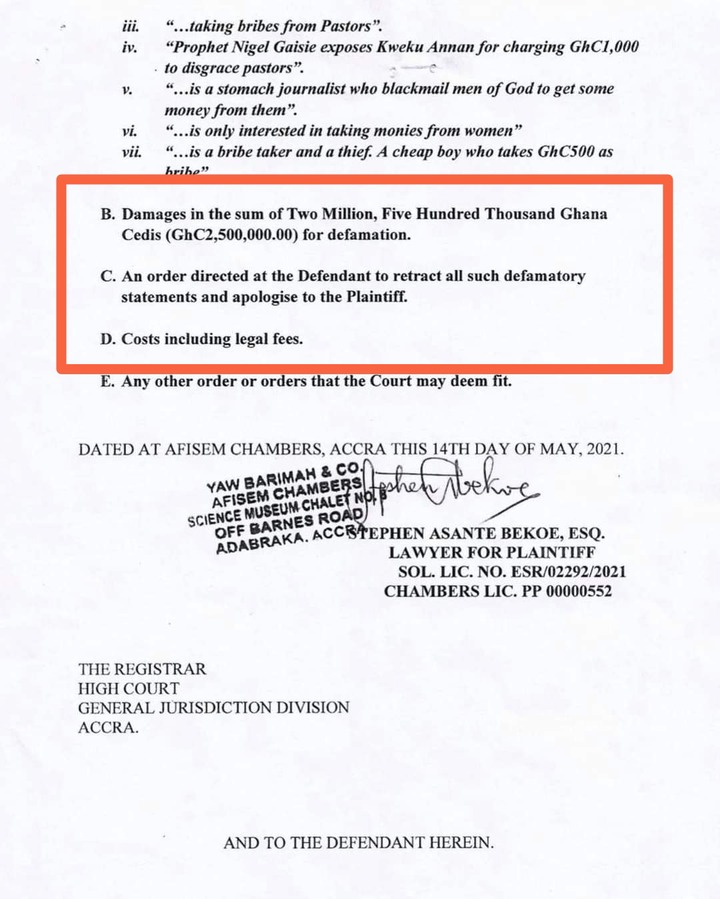 Kwaku Annan indicated in the suit that an opportunity granted Nigel Gaisie to reflect upon his comments and insults, and subsequently render an unqualified apology took to his platform on Hill TV to 'thrash' letters sent him by the lawyers.
In his early comments about what had transpired between the two, Kwaku Annan indicated that Nigel Gaisie had once when the heat on exposing fake pastors was intense, mobilized some public figures including Kwame A-Plus, Kwame Nkrumah Tikese, Anim Addo to plead with him not to expose him.
This claim had been on the lips of Kwaku Annan for many months, and many had wondered if it was true. But Nigel Gaisie's consistent counterattack on Kwaku Annan had inflamed tensions.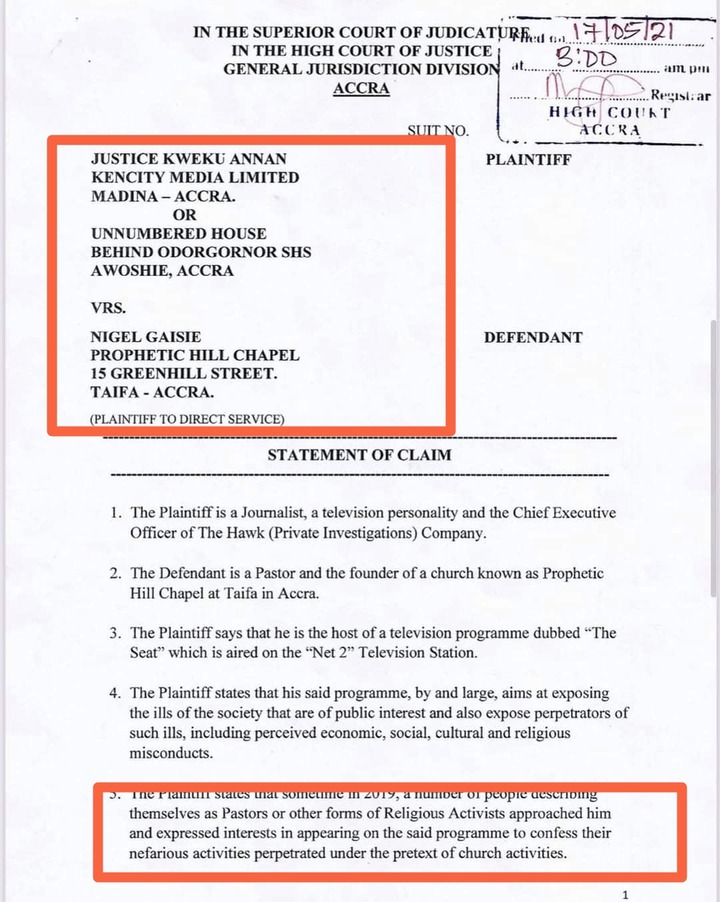 On Kwaku Annan's part, he has no hidden agenda as alleged to expose men of God but to protect the Christian faith and its believers.
But will Nigel Gaisie honour these writs? Can he mount a strong defense against these claims? In other interesting conversations, Nigel Gaisie is said to have contemplated a legal action against Kwaku Annan for having made some unsubstantiated allegations against him and the church.
However the opportunity granted him to appear on the seat show to defuse any claim leveled against him by some guest of the show, was never honoured. It is going to be an interesting week and many to come on how this case unfolds.
Source: operanewsapp