– Actress and television host, Naa Ashorkor, has been featured on Deutsche Welle (DW), a German public state-owned international broadcaster
– Ashorkor was featured on a program titled 'The 77 Percent'
The likes of Berla Mundi, and Lydia Forson have congratulated her for making Ghana proud
A number of Ghanaian celebrities including Berla Mundi, Lydia Forson, and Gloria Sarfo have congratulated Naa Ashorkor after she was featured on Deutsche Welle (DW), the German public state-owned international broadcaster.
The Ghanaian actress and television presenter was featured on a program called 'The 77 Percent' referred to as a 'platform for Africa's Youth.'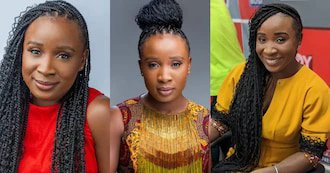 Ashorkor talked about how she started in the media industry, acting, her life as an entrepreneur, and the social issues she champions. Her friend of 15 years, Akosua, was also interviewed as part of the segment.
Check some celebrity comments below.
Prince David Osei: "Jet Lee super woman ❤️ Enyonam"
Berla Mundi: "Love This"
Lydia Forson: "Love this! Congratulations"
AJ Sarpong: "Yaaaahhh! Love thissss! Congratulations boo"
Gloria Sarfo: "Super Woman"
Source: operanewsapp.com