At least 12 African politicians have tested positive for the deadly coronavirus which has forced countries to quarantine citizens, while robust health systems crumble under the weight of increasing infections.
While 10 of them under are quarantine receiving treatment, two have died.
The affected politicians are between the ages of 50 and 80.
Nigeria
In Nigeria, President Buhari's Chief of Staff, Abba Kyari, who is in his 70s and two governors — Kaduna State's, Nasir El-Rufai; and Bauchi State's, Bala Mohammed and the Governor of Oyo State, Seyi Makinde have all tested positive for the coronavirus.
In his 70s, Abba Kyari is an important figure in Buari's government, but he is reported to have a history of medical complications, including diabetes.
Mr Kyari reportedly traveled to Germany in early March with a delegation of other Nigerian officials for meetings with engineering and industrial giant Siemens AG.
Away from Abuja, three Nigerian governors have tested positive for the virus. They are the governors of Kaduna, Bauchi and Oyo.
The charismatic Kaduna State Governor, Nasir El-Rufai, announced that he tested positive for coronavirus on March 29.
The governor of the Northern Nigerian state, in a statement, said he took the test for the virus earlier in the week. He, therefore, announced that he was going into isolation in compliance with recommendations of the Nigeria Centre for Disease Control.
El-Rufai has thus become the second Nigerian state governor to test positive to COVID-19. Governor of Bauchi State is also in isolation after testing positive for the virus.
Governor Bala Mohammed was reported to have contracted the disease a day after he had contact with the son of former Vice President Atiku Abubakar, who confirmed to have been infected with the virus.
The Governor had returned to Bauchi from an official trip to Lagos after he met with Mr Atiku's son on the plane where both men shook hands and exchanged pleasantries, Nigeria's channelstv.com reported.
But there are reports that the government official could have met more people than he thought.
On March 18, Governor Mohammed and Governor El-Rufai reportedly attended a meeting of the Nigeria Governors' Forum.
The following day, March 19, the two were again at Nigeria's National Economic Council Meeting. The following day, the Kaduna governor joined his colleagues for a breakfast meeting with officials of the World Bank.
Then there is the Governor of Oyo State, Seyi Makinde.
"I just received my COVID-19 confirmation test result. It is POSITIVE. I am asymptomatic and will continue to self-isolate," the governor shared on his twitter page.
Details are scare on how the Governor of Nigeria's southern-western state got infected with the disease, but speculations in the Nigerian media was that he either got it from celebrated Nigerian artiste, Davido, who he met recently or from the high-profile meetings the two governors attended on March 18 and March 19.
I just received my COVID-19 confirmation test result. It is POSITIVE. I am asymptomatic and will continue to self-isolate. pic.twitter.com/SX6UAYBb0S

— Seyi Makinde (@seyiamakinde) March 30, 2020
I am overwhelmed by your good wishes and prayers. Thank you, everyone.

I am known as a long-distance runner. If I can outrun and outlast the virus, which I am sure, by God's grace, I will do, so also will many of our people in Oyo State. pic.twitter.com/EanGv6zICQ

— Seyi Makinde (@seyiamakinde) April 1, 2020
He was at the high-profile meetings the two governors attended on March 18 and March 19.
Burkina Faso
The politicians from Africa's most populous country are not the only ones down with the disease.
Burkina Faso, another West African country, is at par with Nigeria as the countries with the highest number of reported infections among political leaders on the continent.
Four ministers from the Sahel country are infected— Foreign Affairs Minister, Alpha Barry; Minister of Mines, Oumarou Idani; Minister of Education Stanislas Ouaro; and interior minister Simeon Sawadogo— are receiving treatment under quarantine.
All four took to social media to announce that they had tested positive for the disease on March 21.
The government's website showed that there was a ministerial meeting on March 11m, but was silent on whether the four attended the meeting.
Cameroon
Nigeria's neighbour—Cameroon—also has a big politician down with coronavirus. The country's Speaker of Parliament, Cavaye Yeguie, tested positive for the disease after returning from France.
But his fellow lawmakers are not sympathising with him as they accuse him of endangering the house. Nigeria's Daily Times reported that hospital sources have alleged the 70 years plus Speaker of the Central African country's Cavaye Yeguie, National Assembly, tested positive for the coronavirus. He was part of an Airfrance flight that was declared high risk, but he allegedly skipped quarantine orders in his rush to be re-elected at Parliament.
South Africa
In South Africa, the leader of the opposition African Christian Democratic Party (ACDP),Rev Reverend Kenneth Meshoe, and his whip, MP Steve Swart, tested positive for the coronavirus, the party announced on March 27.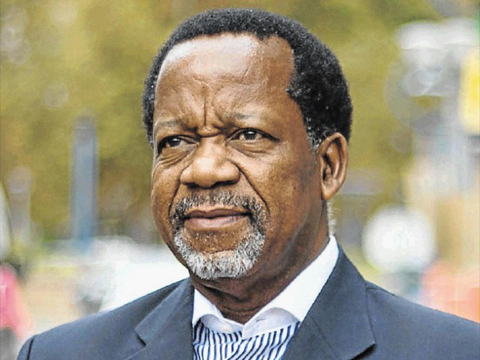 The two were tested after it emerged that they had attended an event hosted by the Divine Restoration Ministries in Bloemfontein this month.
Five others who attended the event – which also had guests from the United States, Israel, and France – had tested positive.
DR Congo
The country's former President, Jacques Joaquim Yhombi-Opango, died after contracting coronavirus, his family said.
Mr Yhombi-Opango died in a Paris hospital on Monday. He was 81.
Yhombi-Opango was ill before he contracted the virus, his son told AFP news agency.
He led Congo-Brazzaville from 1977 until he was toppled in 1979, being ousted by the country's current leader, Denis Sassou Nguesso.
The other Congolese politician to die from the disease is  Jean-Joseph Mukendi wa Mulumba, an aide to the country's President. The human rights lawyer succumbed to COVID-19 on March 24 in the capital, Kinshasa–becoming the third person known to have died from the virus in the country.
He played a prominent role in the trial following the murders of human rights defender Floribert Chebeya and his driver, Fidèle Bazana, in 2010.
Source: theghanareport.com