An 83-year-old woman from Ukraine was pronounced dead at her home by both paramedics and police, last week, but 10 hours later, after her family started making preparations for her funeral, she showed signs of life and has since made a full recovery.
Paramedics first consulted Ksenia Didukh, an 83-year-old retired nurse from the Ukrainian town of Stryzhavka, at her home at around 6am, on February 17. This was to be one of three visits they paid the woman that Sunday, a day they'll likely never forget. After that first visit, they concluded that the octogenarian was agonizing and basically on death's threshold, so they so no point in taking her to the hospital. The family agreed, and later that day, the doctors' prognostic was confirmed. Ksenia stopped breathing, and paramedics were once again called, along with police, to confirm the woman's death.
Doctors checked for vital signs, and performed an EKG, which showed no heart activity whatsoever. Ksenia's death was also confirmed by police, and the family immediately started making preparations for her funeral. Local authorities were notified to get started on her death certificate, a grave digger was hired, and the local priest came to perform the final rites. But later that day, the woman's daughter noticed something strange.
"At around 7.30pm we touched her forehead, and it was warm," Tetyana Potomchenko said. "Her armpits were warm, she was alive. The death certificate had to be cancelled – and torn up."
Vladimir Chebotarev, an intensive care doctor with over 37 years of experience, told Ukrainian news site Depo that on February 17, at 9:08pm, an ambulance from Stryzhavka arrived at Vinnytsia Hospital. It brought in an 83-year-old woman in a stage 3 coma, with almost no signs of life. Under the careful watch of doctors there, the woman soon came out of the coma, and appeared to be in "satisfactory" health.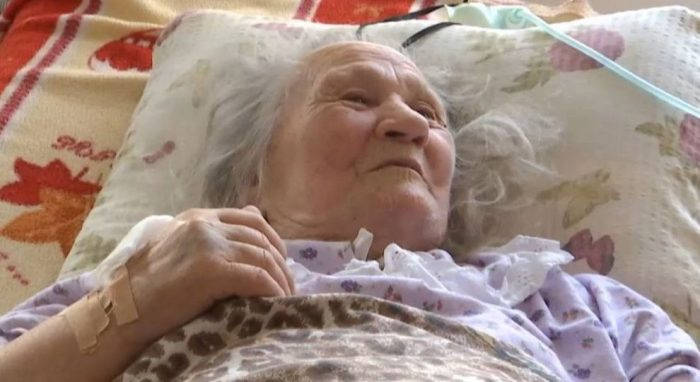 Photo: TCH/YouTube
Asked what she saw while she was in the deep coma, Ksenia Didukh answered: "The Kingdom of Heaven. I called for my father! I wanted to ask if it was easy for him there? I thought we would meet, I already felt him. But I opened my eyes and standing above me were these people dressed in white! I thought they were angels, but they were actually doctors. I myself worked as a nurse, saved people and, apparently, God had mercy on me."
Stryzhavka  priest Roman Petrik, who had been booked to perform the funeral service for the 83-year-old woman, attributed the woman's resurrection to divine intervention. He said "God gave life to this old lady. This is the first time I have seen it."
"I have been working as a doctor for 20 years, but I have not seen anything like this," Dr Tetyana Katylova, deputy medical officer of Vinnytsia regional hospital, said.
According to Ukrainian news portal TSN, Ksenia Didukh was discharged a week after being admitted to Vinnytsia hospital, and is now in relatively good health for her age.
Source: odditycentral.com / Spooky